Does the Dental Implant Procedure Hurt?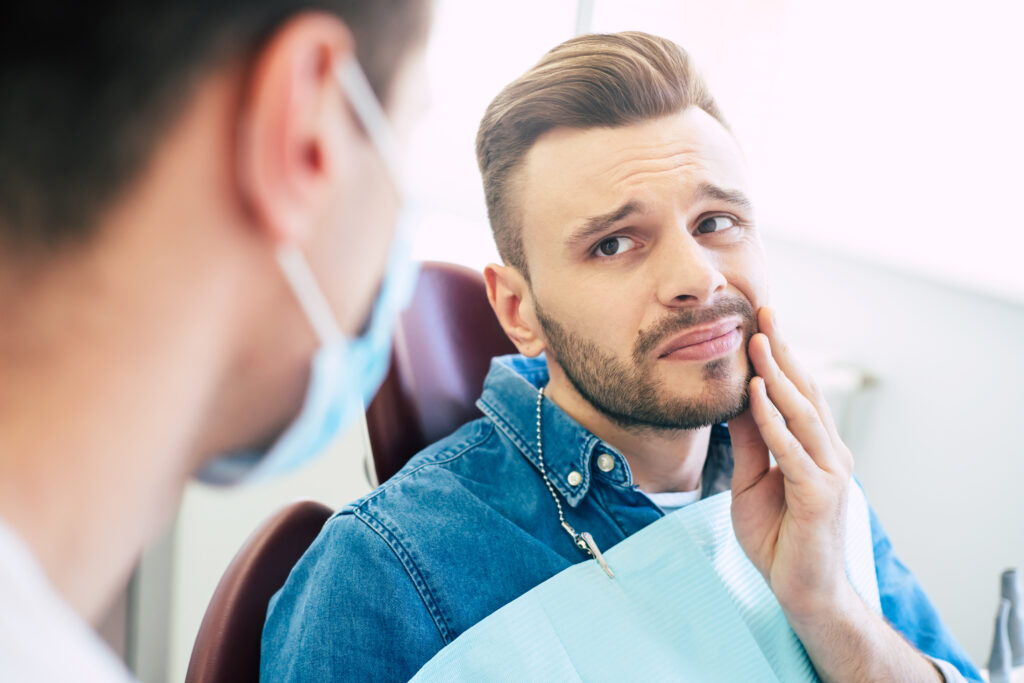 Traditionally, people turned to bridges or dentures to restore their smiles. Today, more and more people are turning to dental implants because of their incredibly natural and functional results, almost like having your real teeth back. The big question that often comes up is, "Does the implant procedure hurt?"
What Are Dental Implants?
Dental implants are titanium posts that are placed in your jawbone. They serve as anchors for dental implant restorations made to match your smile. Implants provide a secure and stable foundation to support one or more missing teeth, restoring your smile's health, function, and natural appearance.
What Is the Dental Implant Process?
Placing one or more dental implants is one of the best things you can do for your smile. The entire process takes about 6-8 months to complete.
The first step is placing the implant by an oral surgeon. During healing, the implant will integrate with your jawbone in a process known as osseointegration, providing a solid foundation to support your replacement tooth or teeth. During this time, you will meet with Dr. Huang to prepare your new implant restoration.
After the area heals, Dr. Huang will attach a connector called an abutment to your implant to serve as an anchor for your replacement teeth. The last step is placing your new single-tooth implant, implant-supported bridge, or implant-supported fixed hybrid denture, also known as All-on-4s.
Does the Dental Implant Process Hurt?
Before placing your dental implants, your oral surgeon will administer local anesthesia and dental sedation to ensure you are comfortable and relaxed during the procedure. You may feel some pain after the anesthesia wears off. However, most individuals find relief using over-the-counter pain medications such as ibuprofen.
You can expect manageable pain at the implant site for one to two days, with some patients reporting pain for up to ten days. You may also have some bruising and swelling of the gums, minor bleeding, and discomfort around the cheeks, chin, and eyes. If your pain persists for more than two weeks, make sure to let your oral surgeon know.
What Are the Benefits of Dental Implants?
Dental implants are the next best thing to having natural, healthy teeth. They offer numerous benefits, including the following:
They Match Your Smile: Dental implants are created from the highest quality materials that match your smile. Once in place, your implant restorations will look just like your natural teeth, leaving you with seamless results.
They Support Your Facial Structure: Losing your teeth can lead to changes in the shape of your face. Replacing missing teeth with dental implants will support your facial structure and maintain your youthful contours.
They Prevent Bone Loss: When a tooth is lost, the bone in the area begins to break down and deteriorate. Dental implants mimic the function of missing tooth roots, stimulating the jawbone and preventing bone loss.
They Won't Slip or Shift: Traditional dentures may shift or slip, leaving you self-conscious. Dental implant restorations are anchored to implants placed in your jawbone, giving you the confidence that they will never shift out of place.
They Restore Your Chewing Power: Dental implants offer a stable and secure tooth replacement solution. They allow you to chew with ease and enjoy your favorite foods once again without any restrictions.
They Restore Your Natural Speech: Leaving a gap in your smile or wearing traditional dentures can alter your speech. Dental implants function like natural teeth, restoring your normal speech patterns.
They Stop the Adjacent Teeth from Shifting: Leaving a gap in your smile can result in the adjacent teeth shifting toward the gap. That can lead to crooked teeth and problems with the bite.
They Are Highly Successful: Dental implants have a 95-98 percent success rate. With proper oral hygiene practices and regular visits to your dentists, your dental implant restorations have the potential to last a lifetime.
Dental Implants Near Me in Morgan Hill, CA
Visit Santa Teresa Dental in Morgan Hill, CA, to learn more about replacing missing teeth with dental implants. Even though the recovery may come with some discomfort, most people with implants say they would do it again because of how much they love their new teeth. Call us at 408-782-6568 to schedule your appointment, or request one online today!