Why Is It Important to Stay up to Date on Dental Technology?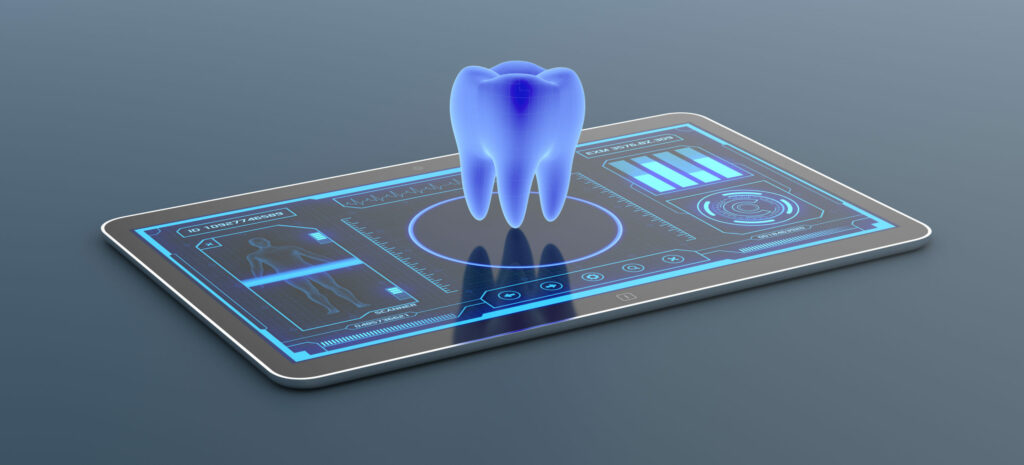 At Santa Teresa Dental, we are committed to offering the best and most current technological options to our patients, including investing in digital x-ray technology, an intraoral camera, CariVu® and Spectra® Caries Detectors, and laser dentistry treatments. Our state-of-the-art technology helps facilitate the diagnosis and treatment of dental problems with exceptional precision, accuracy, and effectiveness.
Digital X-Rays
Digital dental radiographic records, or digital x-rays, are essential, preventative, diagnostic tools that provide valuable information not visible during regular dental exams. They accurately detect hidden abnormalities and enable us to create effective treatment plans. Digital x-rays utilize electronic sensors instead of x-ray film to capture and store digital images on a computer. We can instantly view and enlarge the images, which helps us detect problems easier. Digital radiographs reduce radiation exposure by up to 75% as compared to traditional dental x-rays.
Digital x-rays can reveal decay between the teeth, abscesses, cysts, bone loss, cancerous and non-cancerous tumors, poor tooth and root positions, developmental abnormalities, and problems inside a tooth or below the gum line. Detecting problems at an early stage will save you time, money, unnecessary discomfort, and your teeth!
Intraoral Camera
The intraoral camera is a highly advanced diagnostic tool that is approximately the size and shape of a dental mirror. It has a built-in, high-intensity light source and serves as a tiny video camera that enables us to zoom in on one tooth and magnify it 25 times. The images, displayed on a computer monitor or an iPad, reveal problems such as plaque deposits, cavities next to fillings, cracked teeth, worn or broken fillings, and excessive wear. Having a clear understanding of your dental condition will allow you to make informed treatment decisions.
CariVu® and Spectra® Caries Detector
CariVu® and Spectra® are two different technologies that both detect cavities. The lightweight and portable devices capture digital images to pinpoint precisely where decay is present on the tooth. CariVu® uses patented transillumination technology. Utilizing a safe, near-infrared light, it makes healthy enamel appear transparent while porous lesions such as cavities trap and absorb the light. Spectra®, on the other hand, uses a color-coded reading, green, blue, red, and yellow, to indicate the level of decay present. For example, a healthy tooth will appear green while areas of decay appear red.
Laser Dentistry
We offer treatment using the most effective dental technologies, including the 810nm AMD diode laser. Laser dentistry offers several advantages. Some laser procedures do not require anesthesia, and soft tissue treatments may not require stitches. Lasers also minimize bleeding and risk of bacterial infections and expedite healing. Best of all, they can treat targeted tissue while leaving the surrounding tissue unharmed.
The uses of lasers include cavity detection, tooth preparation, treatment of tooth sensitivity, and treatment of lesions and ulcers. Lasers can also be used to reshape gum tissue and bone to expose healthier tooth structure, treat periodontal (gum) inflammation, and more.
Our Amenities
Kick back, relax, and enjoy our office amenities, including Netflix and YouTube TV in our operatories, Pandora music, free Wi-Fi, and massaging dental chairs. We want you to feel right at home!
Advanced Dental Technology in Morgan Hill, CA
Contact Santa Teresa Dental to learn more about the advanced technology unique to our office, and how we use it to deliver exceptional care. We look forward to helping you maintain long-term healthy smiles. Call us and schedule your appointment today.