What Makes Invisalign a Better Option?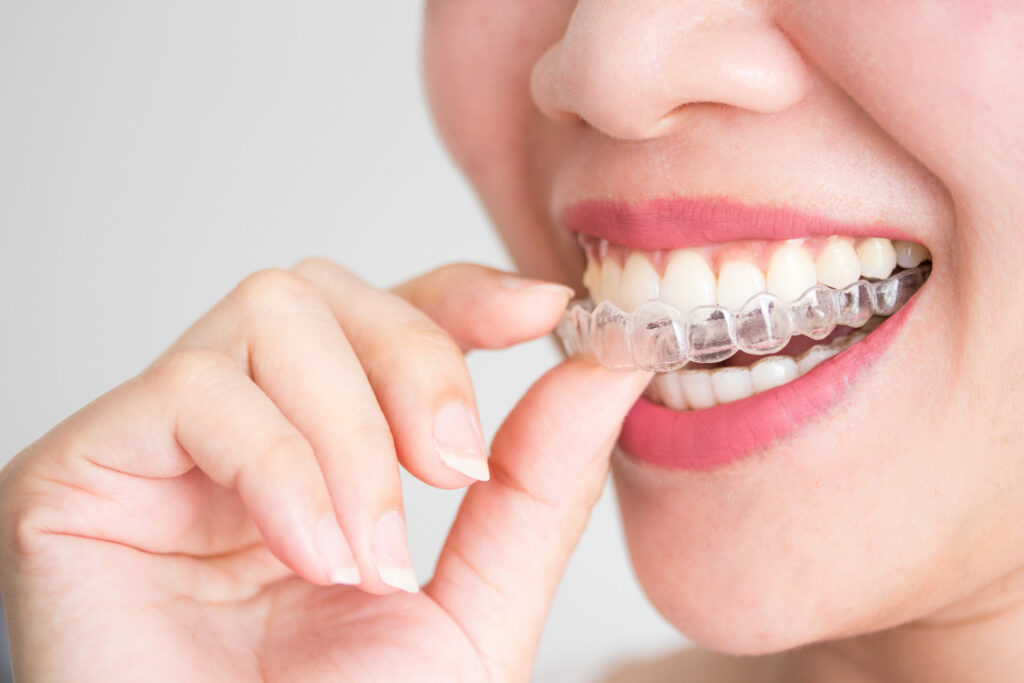 If you've been hiding your smile due to crooked teeth, you've come to the right place. Santa Teresa Dental is proud to offer Invisalign to teens and adults dreaming of perfecting their smiles without dealing with the "tin grin" typically associated with traditional braces. Having been voted "Best Invisalign Dentist in Morgan Hill, CA," you can always trust our dental practice for orthodontic care that exceeds your expectations.
What Is Invisalign and How Does It Work?
Invisalign by Align Technology offers a more comfortable and convenient orthodontic solution to straighten your smile than ever before. A series aligners fit snugly over your teeth, gently and precisely shifting them into alignment. Invisalign treats a range of mild to complex cases, including gapped, crowded, and crooked teeth, as well as problems with your bite.
You will need to wear your aligners for 20-22 hours a day for the best results. After the treatment concludes, you will need to wear retainers to prevent your teeth from returning to their original position.
What Makes Invisalign a Better Option?
Our patients are highly satisfied with Invisalign, and here's why we believe it's a far better option for straightening your teeth and perfecting your smile than using traditional braces.
Invisalign Won't Interfere with Your Appearance: Unlike traditional braces with their metal brackets and wires, the virtually invisible plastic aligners fit snugly over your teeth, gently pushing your teeth into alignment without anyone having to know.
Invisalign Safeguards Your Oral Health: Patients often get their metal braces removed only to find that they have tooth staining, cavities, or inflamed gums. The reason is that it's difficult to clean properly around the braces. With Invisalign, you'll just remove your trays and brush and floss as you normally would.
Invisalign Is Incredibly Comfortable: Traditional braces come with brackets and wires that may be uncomfortable and painful. Your Invisalign aligners, on the other hand, are made from a smooth, flexible plastic that gently and comfortably straightens your smile.
Eat Whatever You Want with Invisalign: One of the worst parts of traditional orthodontic treatments is having many food restrictions. With Invisalign, just remove the aligner trays and enjoy all your favorite treats!
Invisalign Will Not Impact Your Life: Have a special occasion or a sports event coming up? Just remove your aligners and pop them back in when done.
Treatment Time with Invisalign Is Shorter: Straightening your teeth with traditional metal braces can take up to five years, which is a long time to live with uncomfortable brackets and wires. In contrast, treatment with Invisalign takes about 18 months on average.
Invisalign Saves You Time: With Invisalign, you have fewer dental appointments than with traditional metal braces. All you need to do is exchange your aligners when you're due for the next stage of your treatment and visit our office for occasional checkups about every six weeks.
Invisalign Improves Your Dental Health: With Invisalign, you will enhance your dental health. Eliminating gaps or tooth crowding makes it easier to care for your teeth, and better dental health will ultimately lead to better overall health.
Invisalign Delivers Beautiful Results: Invisalign's results speak for themselves. You'll achieve your beautiful, straight smile and improve your self-confidence.
Invisalign in Morgan Hill, CA
Visit Santa Teresa Dental to learn more about the many advantages of Invisalign, the world's most advanced aligners. We are committed to utilizing state-of-the-art technology to deliver a smile you love. Call us and schedule your appointment today!