What Are the Benefits of Dental Implants?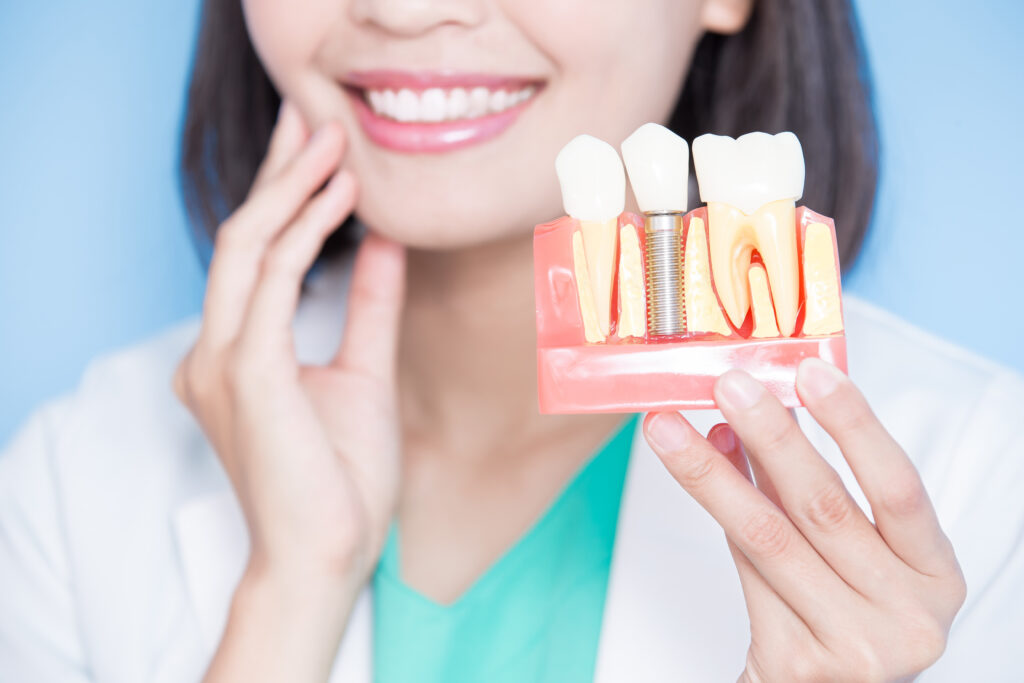 Replacing one or more missing teeth with dental implants is the next best thing to having natural, healthy teeth. At Santa Teresa Dental, we offer quality, durable implant restorations to restore your smile's function and aesthetics. You'll love the stunning results.
What Are Dental Implants?
Dental implants are titanium screw-shaped posts that are surgically placed in your jawbone. They mimic the function of natural tooth roots and provide a solid anchor to support one or more replacement teeth.
What Are the Benefits of Dental Implants?
Dental implants provide numerous benefits, including the following:
They are made to look just like your natural teeth, providing an aesthetic tooth replacement option.
They replace missing tooth roots, stimulating the bone in the area and preventing bone loss.
They stop the adjacent teeth from moving into the gap, preventing crooked teeth and problems with the bite.
They restore your full chewing power, allowing you to enjoy your favorite foods without restriction.
They don't rely on adjacent teeth for support.
They provide a permanent solution to replace one or more missing teeth.
They are incredibly secure and will never shift or slip like dentures.
They support your features, preventing facial sagging.
They restore your healthy, confident smile.
They have a 95-98 percent success rate.
They have the potential of lasting a lifetime.
Are You a Candidate for Dental Implants?
Candidates for dental implants must be in good health, have healthy gums, and have adequate bone structure to support the restoration. They must also be willing to commit to excellent oral hygiene habits and maintain regular dental visits.
Some factors that may interfere with the success of an implant include smoking, chronic teeth grinding and clenching, a condition known as bruxism, and some health conditions, including uncontrolled diabetes, chemotherapy, and blood disorders. If you are considering restoring missing teeth with dental implants, Dr. Huang will evaluate your unique condition to determine whether you're a candidate.
What Are the Types of Implant Restorations?
The following are the implant restorations we proudly offer at Santa Teresa Dental:
Single Tooth Implants: If you are missing a single tooth, a dental crown placed on an implant will restore your healthy smile. Restoring a single tooth with an implant won't affect the neighboring teeth.
Implant-Supported Bridges: These restorations offer an excellent alternative to removable partial dentures. They replace several adjacent teeth with incredibly natural-looking and feeling results.
Implant-Supported Fixed Hybrid Dentures: Also known as an all-on-4s, these implant-supported fixed hybrid dentures replace an entire arch of missing teeth. Once in place, they look, feel, and function just like your real teeth!
What Is the Dental Implant Procedure?
Placing a dental implant is a long-term investment in your oral health and your quality of life. The entire process typically requires six to eight months to complete.
An oral surgeon completes the first part of the procedure. It involves surgically placing your implants to replace the missing tooth roots. During the healing period, the implant will bond with the jawbone in a process known as osseointegration. That will create a solid foundation to support the replacement teeth. You'll meet with Dr. Huang to prepare your new implant restoration during this time.
After the area heals and the implant bonds to the jawbone, Dr. Huang will attach a small post or connector called an abutment, which will serve as an anchor for your new implant restoration. Once in place, your new replacement teeth will restore your smile's function and natural appearance. You'll love the stunning results!
Dental Implants in Morgan Hill, CA
Contact Santa Teresa Dental to learn more about the many benefits of dental implants. Dr. Huang and his team are committed to utilizing cutting-edge technology and techniques to deliver implant restorations that look, feel, and function just like your natural teeth. Call us and schedule your appointment today!