How Should I Prepare My Child for the First Dental Visit?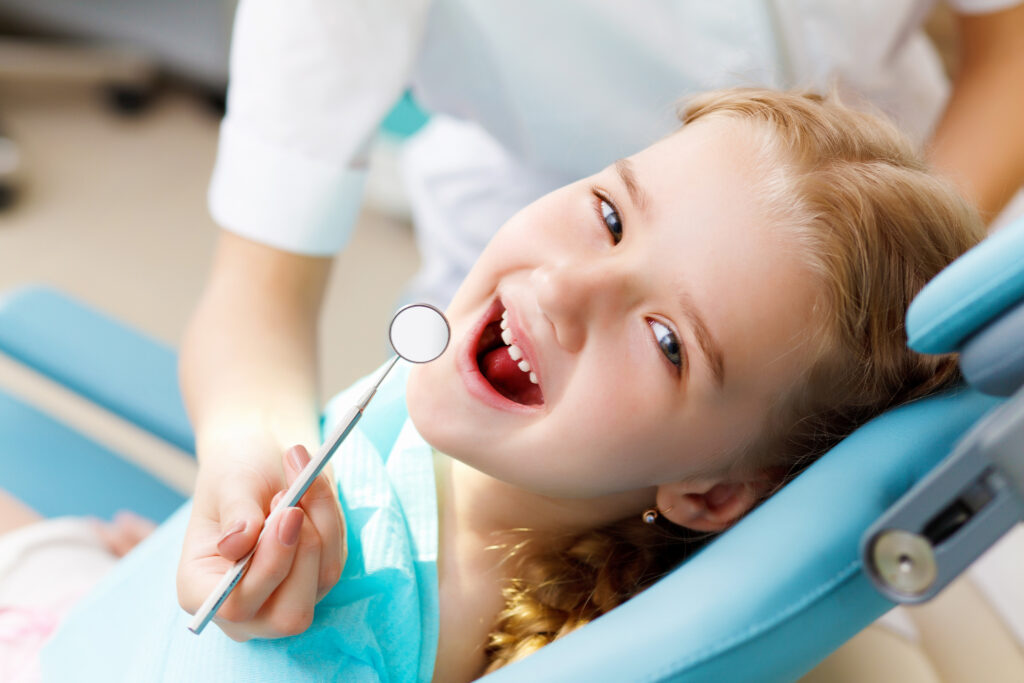 Just like you, your child requires routine dental visits to maintain a healthy smile. At Santa Teresa Dental, we treat children of all ages, taking into account our young patients' unique needs. We focus on prevention, early detection, and prompt treatment to maintain your child's long-term oral health. We strive to ensure your little one's first visit and every following one is happy, comfortable, and free of stress.
When Should Your Child First See a Dentist?
Wondering when your child should first see a dentist? The American Academy of Pediatric Dentistry recommends seeing a dentist for the first time no later than the first birthday. From that point on, most children will require twice-yearly dental exams and cleanings. Caring for your little one's teeth right from the start will lower the risk of tooth decay, one of the most common yet preventable childhood concerns.
How Can You Prepare Your Child for the First Dental Visit?
It is important to prepare your child for the first dental visit to ensure it is a happy experience. Here are some things you can do:
Stay Upbeat: Your little one will pick up on your fear or dental anxiety, so even if you're not a fan of visiting the dentist, don't let your child know. Stay positive and upbeat and portray the first dental visit as an exciting event.
Choose the Ideal Time: Make sure to schedule the first dental appointment when you know your little one will likely be most rested and cooperative. Avoid nap times and make sure your baby or toddler is fed before coming in. The last thing you want is to deal with a tired, hungry child during the first dental visit.
Read Books about Dentists: There are many books and videos about visiting the dentist, such as "Peppa Pig Dentist Trip" by Scholastic, "Curious George Visits the Dentist" by H.A. Rey, and "Leila's First Visit to the Dentist" by Humairah Shah. Snuggle with your little one and build up excitement about going to the dentist.
Role Play: Play dentist with your toddler. Take turns being the dentist and caring for a stuffed animal's teeth. You can also examine each other's teeth. When it's your turn, model a caring, gentle dentist to show your child there's nothing to fear.
Ask About Our Visit the Dentist Day
We welcome groups of six kids or fewer for our exclusive Santa Teresa Dental "Visit the Dentist Day" experience. The fun one-hour educational tour includes dental story reading time, a nutrition discussion, a marshmallow challenge to demonstrate cavity formation, and Kirby the monkey's proper oral hygiene demonstration.
We will end the visit with a "Pretend I am a dentist" activity, during which your child will wear a mask and gloves and explore child-safe dental instruments. Our young visitors love this exciting experience and always look forward to returning to get their teeth cleaned and cared for.
What Happens During the First Dental Visit?
After greeting you and your little one, Dr. Ann will review your child's medical and dental history, answer your questions, and address your concerns. She will evaluate every aspect of your child's oral health to ensure your little one is free of cavities, gum inflammation, or other dental problems.
Dr. Ann will discuss your child's oral health, including development, teething, gum health, your child's bite, dental hygiene, fluoride usage, and preventing oral trauma. She will demonstrate how to clean your little one's teeth and discuss nutrition, pacifier use, thumb sucking, and more. She will also talk to you about what you can expect as your child grows and develops and will suggest a schedule for follow-up care.
Depending on your child's needs, Dr. Ann may recommend a dental cleaning and fluoride treatment to lower the risk of developing cavities.
Children's Dental Care Near Me
Visit Santa Teresa Dental in Morgan Hill, CA, to learn more about caring for your child's smile. Dr. Ann and her kid-friendly team are committed to providing exceptional children's dental services to set the stage for healthy smiles for life. Call us at 408-782-6568 to schedule your child's appointment, or request one online today!