Can I Have Implants with My Dentures?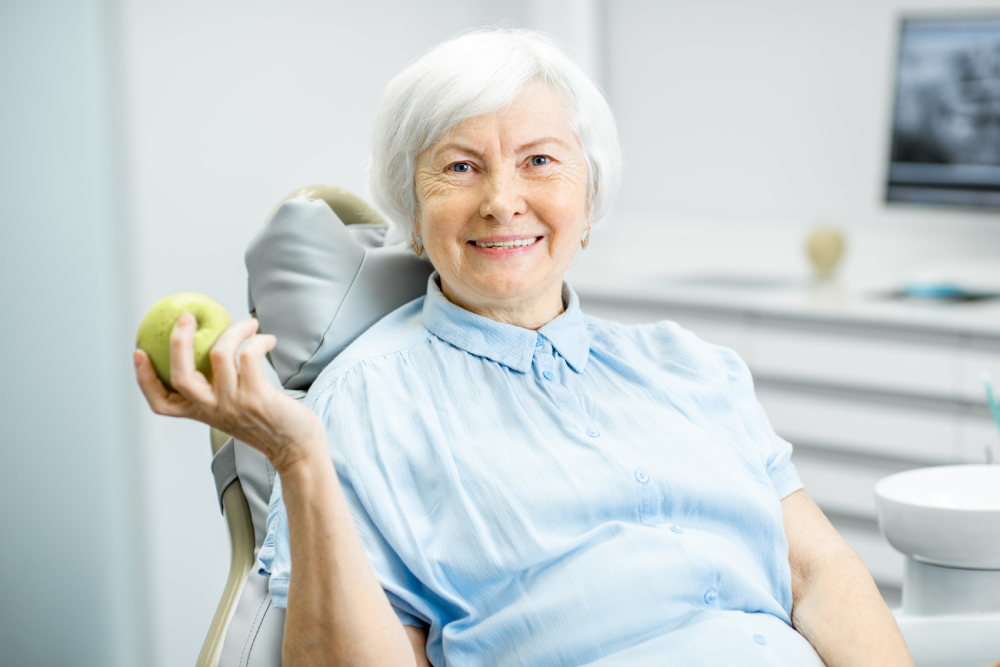 Dentures offer a cost-effective option to restore your smile. However, they sometimes slip or shift, leaving you self-conscious and preventing you from enjoying a nutritious diet. Moreover, dentures rest on the gums and place pressure on the bony ridges, often leading to bone loss in the jaw over time. The good news is that there's a simple solution to avoid these problems – Support your dentures with dental implants.
What Are Dental Implants?
Implants are small titanium posts that replace missing tooth roots. Over time, they fuse to the bone in a process called osseointegration, which helps prevent bone loss and enhance your oral health. Dental implants provide an incredibly stable and secure foundation to support replacement teeth that look, feel and function just like your natural teeth.
Implant-Supported Removable Dentures – An Overview
Dental implants offer an excellent solution for individuals with missing teeth. However, replacing each missing tooth with a dental implant restoration is not economically feasible or necessary. Implant-supported removable dentures, also known as implant overdentures, combine conventional denture technology with modern advancements in implant dentistry, delivering beautiful, functional smiles.
While every person is unique, it can sometimes take as few as two implants to support a lower denture. However, an upper denture will require a minimum of four dentures for support. If you already wear traditional dentures, we may be able to modify them to become implant-supported dentures, or we'll get new ones made for you. Your overdentures will sit securely in place with unmatched stability, comfort, and function.
What Are the Benefits of Implant-Supported Removable Dentures?
Removable overdentures provide numerous benefits. Placing implants helps stimulate the bone in the area, preventing bone loss and preserving your facial structure. With implant-supported dentures, you won't have to worry about your replacement teeth shifting or slipping. You'll speak clearly, restore your natural chewing function, and smile with confidence once again.
What Is the Dental Implant Treatment Process?
We'll assess your unique needs to determine whether you're a candidate for removable implant dentures. If you have bone loss in the area due to periodontal disease or atrophy from tooth loss, we may recommend a bone grafting procedure to rebuild the bone in the area.
Once you're ready for the implant procedure, we will place titanium posts in strategic locations in your jawbone to best support your overdentures. The implants will fuse to your natural bone in a process called osseointegration, which typically takes three to four months.
After healing, we will attach your new or existing dentures to your implants. You'll leave our office with a comfortable, beautiful, and functional smile.
Caring for Your Implant-Supported Removable Dentures
Just like natural teeth, implant-supported dentures need daily cleaning and maintenance. You must remove all detachable components and clean around them, as well as the teeth replacements and the gum areas. Make sure you follow the care instructions we provide to ensure your implant restorations continue functioning the way they should.
We highly recommend that you take out your dentures before you sleep and store them in water or denture solution overnight to keep them hydrated. Make sure to keep up with your routine dental exams. We'll ensure you have no infections and that your dentures stay in tip-top shape.
If your dentures sustain any damage, refrain from making any repairs yourself. Contact our office for an appointment, and we'll make any necessary adjustments. With proper care, your implant restorations will continue enhancing your smile and quality of life for many years to come.
Implant-Supported Removable Dentures Near Me
Contact Santa Teresa Dental in Morgan Hill, CA, to learn more about enhancing your smile and quality of life with implant-supported removable dentures. Our team is committed to delivering quality, durable restorations using the latest technology and techniques. Call us and schedule your appointment today!